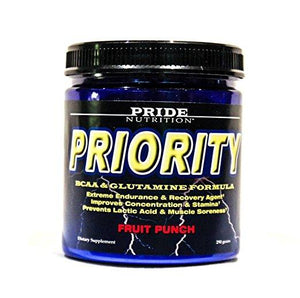 Priority (BCAA & Glutamine)
Regular price $44.99 Sale
 PRODUCT HIGHLIGHTS
- HELPS SPEED RECOVERY
- IMPROVES ENDURANCE & STAMINA
- COMBATS MUSCLE SORENESS
- TASTE & MIXES GREAT!
PRIORITY was formulated to dramatically improve your body's endurance level and ability to recover from physical stresses caused by training. This formula is loaded with key Branch Chain Amino Acids (BCAA) and L-Glutamine to give your body the power to help prevent and combat muscle soreness and fatigue. This combination of essential Amino Acids can help to maximize your recovery, growing and healing times along with improving mental focus. Making it a PRIORITY to give your body what it needs to recover better and faster every day will enable you to push yourself harder to reach your goals!!! 
 

Supplement Facts
Serving Size 1 scoop (11.6g)


Amount Per Serving
BCAA 2:1:1 (Endurance & Recovery Agent) 5g*
(L-Leucine, L-Isoleucine, L-Valine)
L-Glutamine (Endurance & Recovery Agent) 5g *
*Percent Daily Values are based on a 2,000 calorie diet.
*Daily values not established.
Other Ingredients: Natural & Artifical Flavors, Malic Acid, Sucralose, acesulfame potassium, silicon dioxide, red
Mix 1 to 2 scoops of PRIORITY with 10 to 12 ounces of water or your favorite beverage before, during or after training. Mix or shake this product for at least 1 to 2 minute to allow the BCAA's to mix thoroughly. This formula mixes best when shaken in a shaker cup. An extra PRIORITY can be added throughout the day or before bedtime for additional recovery. For best results: add 1 to 2 scoops of PRIORITY to Pride Nutrition's DOMINATE, DOMINATE EXtreme, RETALIATE or favorite sports drink before, or after training and follow that up with RESPECT Protein post workout.
† These statements have not been evaluated by the Food and Drug Administration. These products are not intended to diagnose, treat, cure or prevent any disease.