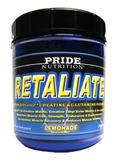 Retaliate Lemonade (Original Formula)
Regular price $59.99 Sale
PRODUCT HIGHLIGHTS
- HELPS BUILD STRENGTH & SIZE
- IMPROVES POWDER & ENDURANCE
- SPEEDS RECOVERY 
- HELPS WITH MUSCLE SORENESS
- TASTE GREAT! 
RETALIATE™ is loaded with Di-Creatine Malate, BCAA's, L-Glutamine, Arginine AKG and L-Tyrosine.  These key amino acids help to increase ATP production to help build strength while improving endurance and recovery.  Because these amino acids are significantly used up by athletes during training, it is beneficial to supply the body properly and very important when trying to achieve maximum performance and results.†
Di-Creatine Malate is one of the highest quality creatines available and offers a higher creatine bioavailability and greater stability over ordinary creatine salts and monohydrates, negating unwanted water retention while improving the body's pH balance. This helps promote much higher ATP concentrations and overall creatine absorption.†
In addition, RETALIATE™ is designed to maximize strength gains and recovery time while elevating mental concentration and endurance levels during even the most difficult and strenuous training sessions! †
Supplement Facts
Serving Size 1 Scoop (26g)
Servings per Container 30
Calories 32
   Calories from Fat 0 0%
Total Fat 0g  0%
Cholesterol 0g 0%
Sodium 0g 0%
Potassium 0g 0%
Total Carbohydrate 8g 4%
  Sugars 0g 0%
Protein 0g 0%
-----------------------------
Di-Creatine Malate 6g
L-Glutamine 5g
BCAA (2:1:1) 3g
(L-Leucine, L-Valine, L-Isoleucine)
NO-Amino Acid Complex 2g
(Arginine AKG, Taurine, Tyrosine, Lysine)
*Daily values are not established
Suggested Usage:

 As a dietary supplement, mix one scoop of 

RETALIATE™

 with 12 to 16 oz of water or favorite beverage 30 minutes prior to or immediately after exercise. For maximum results, take two servings of 

RETALIATE™

 on training days, pre and post-workout with one serving on non-training days. For higher intensity, stack with 

Pride Nutrition's DOMINATE EXTREME™ or DOMINATE™

. Take one scoop of 

DOMINATE EXTREME™

 or 

DOMINATE™

 30 minutes prior to intense training followed up with one scoop of 

RETALIATE™

 immediately after training. Always drink the recommended 8 to 10 full glasses of water daily while using this product to maximize effectiveness and safety. †





Helpful Tips: Remember to repeatedly stir the creatine mixture while drinking to allow for total nutrient uptake. For maximum absorption, drink creatine within five minutes after mixing to prevent creatine breakdown.
Warnings: Keep out of reach of children. Not intended for use by anyone under 18 years of age. Do not use if you are pregnant or nursing. Consult your health care professional before use if you have a pre-existing medical condition. 

† These statements have not been evaluated by the Food and Drug Administration. These products are not intended to diagnose, treat, cure or prevent any disease.