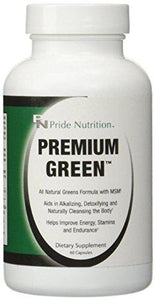 Premium Green (Detox)
Regular price $29.99 Sale
PRODUCT HIGHLIGHTS
- All Natural Greens Formula with MSM
- Aids in Alkalizing, Detoxifying and Naturally Cleansing the Body
- Helps Improve Energy and Endurance
Premium Green™ is an all natural blend of greens combined with many beneficial nutrients that are designed to detoxify the body while improving digestion, optimize pH balance and boost natural energy levels.
This specific blend will help to naturally energize your endurance levels while strengthening your immune defense.
This unique formula is also designed to balance your pH levels by alkalizing your body. Ask for the best in life…ask for Premium Green™!†
Supplement Facts
Serving Size 2 Capsules

Amount Per Serving % Daily Value 

Spirulina 500mg * 

MSM (methylsulfonylmethane) 500mg * 

Chlorella 100mg * 

Barley Grass  100mg * 

Milk Thistle Extract 100mg * 

Alfalfa 50mg * 

Green Tea Extract  25mg * 

Quercetin  25mg * 
Take 1 to 2 Capsules twice daily with a full glass of water preferably before meals. For high endurance athletes, take 2 to 3 Capsules twice daily preferably before and after endurance training with a full glass of water and a balanced meal containing complex carbohydrates.
Warning: Keep out of reach from children. Do not use if you are pregnant or nursing. Consult with your physician if you are taking any over the counter or prescription medications.
† These statements have not been evaluated by the Food and Drug Administration. These products are not intended to diagnose, treat, cure or prevent any disease.