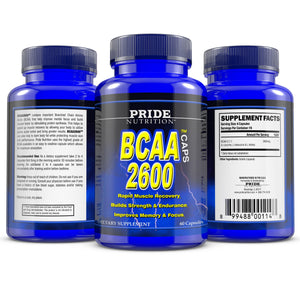 BCAA Caps (Recovery)
Regular price $29.99 Sale
BUILD MUSCLE FASTER: Because BCAAs stimulate protein synthesis, you'll add on muscle more quickly and efficiently, all while reducing muscle fatigue and increasing the speed that you pack on muscle. That means you'll see results faster
RECOVER FASTER: BCAAs have been shown to help your muscles recover faster, which means that they rebuild and show results more quickly, AND you won't feel as sore
MOST POTENT BCAA FORMULA: Not all BCAAs are created equally. Pride Nutrition offers a potent formulation of pure BCAAs
BURN FAT FASTER: Branched Chain Amino Acids (BCAA) help your body burn fat faster while protecting your muscles. That means that your abs will show, your biceps will look bigger, and you'll look and feel more *ripped* than before. You'll look better with your shirt off, because you'll keep your muscle tone while burning more fat.
BCAA 2600- RAPID MUSCLE RECOVERY, HELPS IMPROVE STRENGTH, ENDURANCE, MEMORY & FOCUS
BCAA2600 is designed to help build muscle faster and stimulate protein synthesis. This helps speed recovery and achieve greater results. BCAA2600 also helps burn fat faster while protecting your muscle. Pride Nutrition uses the highest grade of BCAA available in a easy to swallow capsule, allowing for maximum absorption.
Supplement Fact Panel
Serving Size 4 Capsules
Servings per container 15
BCAA 2:1:1 2600mg
(L-Leucine, L-Isoleucine, L-Valine)
Other Ingredients: gelatin (capsule)
Directions: As a dietary supplement, take 2 to 4 capsules first thing in the morning and/or 30 minutes before and immediately after training. An additional 2 to 4 capsules can be taken  in the evening on non-training days.