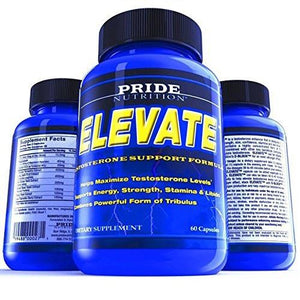 Elevate (Test Booster)
Regular price $49.99 Sale
ELEVATE helps to elevate your muscle building ability, strength, confidence, stamina and libido to a whole new level!  This formula uses the strongest form of Tribulus Terrestris combined with Long Jack and Maca to help stimulate the pituitary gland to naturally produce more testosterone.  ELEVATE can be stacked with Pride Nutrition's Extreme Muscle Building System and E-BLOCK for an even stronger effect.
Supplement Facts
Serving Size: 2 Capsules
Vitamin B6(as Pyridoxine HCl)  20mg  1000%
Magnesium (as Magnesium Aspartate)  40mg 10%
Zinc (as Zinc Citrate) 15.5mg 104%
Tribulus Terrestris Fruit Extract  450mg *
Eurycoma Longifolia(Long Jack) Fruit Extract  400mg *
Oat (Avena sativa) Herb Extract  200mg *
Velvet Bean (Mucuna pruriens) Seed Extract 100mg *
Maca (Lepidium meyenii) Root Extract 100mg *
Saw Palmetto Berry Extract 100mg *
*Daily Value not established
Suggested Usage: As a dietary supplement take (1) capsule in the morning and (1) capsule in the evening with meals.  On training days take one of the dosages 30 to 45 minutes before your workout, an additional ELEVATE capsule can be added especially for athletes over 200lbs.  ELEVATE can also be taken 30 to 45 minutes before sexual activity to elevate performance.  For greater results, ELEVATE can be stacked with E-BLOCK.† These statements have not been evaluated by the Food and Drug Administration. These products are not intended to diagnose, treat, cure or prevent any disease.