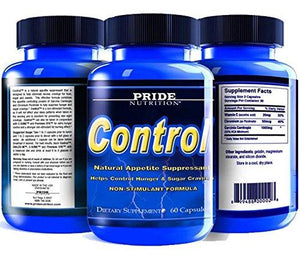 Control (Appetite Support)
Regular price $29.99 Sale
PRODUCT HIGHLIGHTS
- NATURAL APPETITE SUPPRESSANT
- HELPS PREVENT HUNGER & SUGAR CRAVINGS
- NO CAFFEINE
- CAN BE TAKEN ANYTIME OF DAY OR NIGHT
Control™ is a natural appetite suppressant that is designed to help eliminate cravings for excess food and sweets. This new advanced formula combines the appetite controlling powers of Garcina Cambogia and Chromium Picolinate to help prevent hunger and sugar cravings all day. Control™ works especially well for late night cravings and does NOT contain any stimulants or caffeine which allows it to control your hunger in the evening when most other fat burners would interfere with your sleep patterns.
Supplement Fact 
Serving Size 2 Capsules
Vitamin C (as Ascorbic Acid)  20mg 33%
Chromium (as Picolinate) 50mcg 42%
Calcium 170mg 17%
Garcinia Cambogia  (50% HCA) 1000mg * 
Suggested Usage: Take 1 to 2 capsules prior to lunch and 1 to 2 capsules prior to dinner with a full glass of water.  An additional 1 capsule can be taken before breakfast if desired.  For best results, stack Control™,DIALED-IN™, C-GONE™ and Premium EFA™ with a balanced diet and drink at least 6 to 8 glasses of water a day. 
 WARNING: Keep out of reach of children.  Do not use if you are pregnant or nursing.  Consult with your physician before use if you are diabetic or have a history of low blood sugar or if you are taking diuretics or prescription medications.