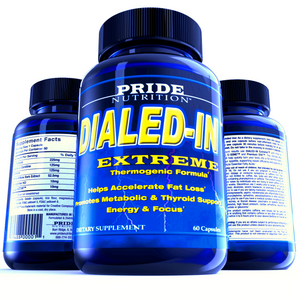 DIALED-IN (Fat Burner)
Regular price $49.99 Sale
PRODUCT HIGHLIGHTS
- EFFECTIVE FAT BURNER & METABOLISM BOOSTER
- HELPS BURN FAT MORE EFFICIENT  
- SMOOTH ENERGY KICK & IMPROVES FOCUS
- GREAT PRE-CARDIO & PRE-CONTEST SUPPLEMENT
-  RAPID FAT LOSS AID
PRIDE Nutrition's™ introduces the New & Improved DIALED-IN Extreme™†
DIALED-IN Extreme™ is all natural thremogenic formula that helps to accelerate your metabolism, burn calories and boost overall energy and concentration levels.  This formula also helps to support a healthy thyroid and contains Acetyl-L-Carnitine which aids in transporting fatty acids to the mitochondria to be used for fuel.  DIALED-IN Extreme™ is also an excellent pre-workout boosting agent to help maximize your training sessions. 
It's time to take your body to whole new lean chiseled look, it's time to get DIALED-IN!
Ingredient Information
Hordenine HCL  - This natural bronchodilator that helps to speeds up the metabolism. †
Caffeine Anhydrous USP- 2 capsules gives you about the same amount of caffeine as 2 large cups of coffee gving a nice, smooth energy kick. †
Salicin - Is like an herbal aspirin that will help intensify the stimulants and the thermogenic effect of this formula, helping you burn more calories. †
99% Guggulsterones E & Z 1:1 & L-Tryosine - Helps to support a healthy thyroid which helps maximize metabolic rate. †
Acetyl-L-Carnitine - Is the best amino acid for breaking up long chain fatty acids or stored fat for use as energy by the body. †
L-Tyrosine- Amino Acid that helps support a healthy thyroid, suppress appetite and boost moods. 
Serving Size 1 Capsule
Servings Per Container 60
L-Tyrosine                                 225mg
Caffeine Anhydrous USP        125mg
Acetyl-L-Carnitine                    125mg
White Willow Extract               125mg
Hordenine HCL                          20mg
99% Gugulsterone E & Z 1:1    10mg 

Recommended Use
As a dietary supplement, take one DIALED-IN Extreme™ capsule before breakfast, and one capsule before mid-afternoon meal. On training days take one capsule 30 minutes before training for an additional energy boost.  Do not take in the evening or exceed 4 capsules per day (exceeding the recommended serving will not improve results)
Warning: Keep out of reach of children. Not intended for persons under 18 years of age. Do not use if you are pregnant or nursing or at risk of, or being treated for high blood pressure, heart disease, renal disease, hyperthyroidism, spasms, psychiatric disease, suffer from migraines, have asthma, or are taking asthma medication. Consult your physician before use if you have a history of low blood pressure and/or are taking medication. the recommended dose of this product contains about as much caffeine as a cup of coffee and should not be taken by individuals wishing to eliminate caffeine from their diet. Limit use of caffeine-containing foods and beverages while taking this product because too much caffeine may cause nervousness, irritability, sleeplessness and occasionally rapid heartbeat.
† These statements have not been evaluated by the Food and Drug Administration. These products are not intended to diagnose, treat, cure or prevent any disease.