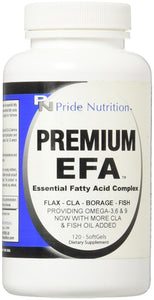 Premium EFA (EPH, DHA, GLA, CLA)
Regular price $29.99 Sale
 PRODUCT HIGHLIGHTS
- HEART & CARDIOVASCULAR HEALTHY
- LUBRICATES SKIN & JOINTS
- HELPS IMPROVE REGULARITY 
- IMPROVES FOCUS AND CONCENTRATION
- HELPS REDUCE BODYFAT
Pride Nutrition's Premium EFA™ is a blend of highly beneficial oils that delivers the essential fatty acids (EFA's), Omega 3, 6 & 9, throughout the entire body.  These EFA's are essential for the brain for mental concentration and used by all of your glands for proper hormone production.
-Additional CLA added which aids in reducing abdominal fat.
-Fish Oil was also added to the formula which contains EPA & DHA that is beneficial for heart and cardiovascular health.
Premium EFA™ uses cold pressed Flax Seed Oil combined with Borage Oil and NOW contains Fish Oil too.  This formula also contains CLA (conjugated linoleic acid) and GLA (gamma linolenic acid), two fatty acids that are proving to be very effective at lowering body fat percentages, while promoting joint lubrication and younger, healthier looking skin. [1]
With added natural vitamin E and Fish Oil containing EPA & DHA, Premium EFA™ may be an essential formula to help fight the ongoing battle with cardiovascular and heart disease.  Furthermore, having deficiencies in your essential fatty acids may also be the underlying cause of obesity, ADD, ADHD, high blood pressure, high cholesterol and could help reduce post-exercise immune suppression.  [2] [3]
Pride Nutrition's Premium EFA™ will help moisturize your entire body from within with its unique blend of essential oils.  Lubricate your system with Premium EFA™ and feel the difference today!
Supplement Facts
Serving Size
Calories 20
Calories from Fat 20
Total Fat 2g 4%
    Polyunsaturated Fat 1g*
Vitamin E (D-Alpha Tocopheryl Acetate) 20IU 66%
CLA Complex (80% conjugated linoleic  580mg *
acid from safflower oil)
GLA Complex (18.5% gamma linolenic 300mg *
acid from borage seed oil)
ALA Complex (50% alpha linolenic 300mg *
acid from flaxseed oil)
EPA (Eicosapentaenoic Acid/fish oil) 250mg *
DHA (Docosahexaenoic Acid/fish oil) 250mg *
* Daily Value not established 
Suggestive Use
Take 1 to 3 Softgels before your 2 largest meals. †
Warning: Keep out of reach of children. Do not use if you are pregnant or nursing. Consult your physician before use if you are taking prescription medication.
[1] American Journal of Clinical Nutrition, Vol. 79, No. 6, 1153S-1158S, June 2004. Dietary conjugated linoleic acid and body composition
[2] Physiol Rev 80:1055-1081, 2000. Exercise and the Immune System: Regulation, Integration, and Adaptation
[3] Am J Physiol Heart Circ Physiol 293: H2394-H2402, 2007. Dietary flaxseed inhibits atherosclerosis in the LDL      receptor-deficient mouse in part through antiproliferative and anti-inflammatory actions
† These statements have not been evaluated by the Food and Drug Administration. These products are not intended to diagnose, treat, cure or prevent any disease.