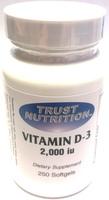 Trust Vitamin D-3 2000 i.u.
Regular price $16.99 Sale
LIQUID SUNSHINE - Vitamin D3 is often referred to as the "sunshine vitamin," Vitamin D3 delivers the same biologically active form of vitamin D produced in the body as a result of direct sunlight without the risk of unprotected UVB exposure.

HIGHEST PURITY - Natural, highly bio-available and highest potency Vitamin D3 Supplement Manufactured in the USA in a GMP certified Organic facility ensures only the highest quality ingredients utilized in all our Products.

HIGHLY ABSORBABLE - Vitamin D3 helps to maintain healthy bones and teeth, provide immune support, and support muscle function.


OVERCOME DEFICIENCY - As many as 60% of the people living in the United States may be deficient in Vitamin D. Most experts agree that Vitamin D is extremely important for heart, prostate, breast, colon, bone, dental and immune health. Supplementing Vitamin D3 may provide broad spectrum health benefits for overall wellbeing.